About Us
Current Location: HOME >> About Us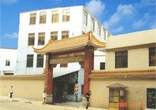 Guangzhou Renmin Chemical Plant. is a middle size chemical enterprise specialized in manufacturing of inorganic silicon products, with longest history, biggest scale and most varieties in south China area.
Relying on technical advancement, it takes the lead to develop sediment white carbon black, medical use silicon dioxide and high concentration silica sol products in domestic. And it builds domestic first industrial production line of extra-fine silicon dioxide aerogel.
Now the factory has a serial of products which all using " Bai Leng Pai " brand name. They are sodium silicate (liquid and solid), silica sol, medical used silicon dioxide, extra-fine silicon dioxide aerogel, activated white carbon black, sediment silicon dioxide, chromium oxide green, waterproof oil and food additive (edible aqueous alkali) under "Yongxin" brand name. The annual capacity is 100,000 tons of industrial sodium silicate, 2,000 tons of silica sol, 3,000 tons of white carbon and 2,000 tons of chromium oxide green. Based on stable performance, all these products are highly praised by wide users. "Bai Ling Pai" sodium silicate and chromium oxide green have been award as "Provincial Excellent Products" for many times.
Insisting on tenet of "customer first, service first, reputation first and quality first", the plant would like to provide wide friends of superior quality products to meet customer requirements.
Based on suggestion of "Tuier Jinsan" of the municipal government of Guangzhou, it stopped production at end of 2010 and stopped selling from July of 2012.
After July, 2012, all sales behavior under brands of "Bai Leng Pai" and "YongXin" is illegal. The plant reserves all the rights to pursue legal responsibility.